Symposium | 16 June 2016

PROGRAMME
SYMPOSIUM | 16 JUNE 2016
3:30 pm: Welcome reception and registration, Lobby


4:00 pm: Opening session and conferences
4:20 pm: Conferences - detailed programme
6:15 pm: Motion addressed to composers via "The Living Composers Project" network [Link]
7:00 pm: session closed


Doors open at 8:00 pm (by invitation only)
8:30 pm: Chamber music concert "Omaggio musicale a Scelsi"
9:45 pm: Drinks reception



Omaggio musicale a Scelsi
Music by Giacinto Scelsi, Fabrizio De Rossi Re, Karol Beffa, Gianni Possio, Lino Liviabella [Link]



David Fajolles (video recording) / Secrétaire général de la Commission nationale française pour l'UNESCO


DOCUMENTS, LINKS
SYMPOSIUM | 16 JUNE 2016

CONTACTS
SYMPOSIUM | 16 JUNE 2016
Fondazione Isabella Scelsi
Via di San Teodoro 8
00186 Roma
tel. 06 69 92 03 44
e-mail contact: [e-mail]


La Villa dei Compositori / Roma
Cristina Farnetti [e-mail]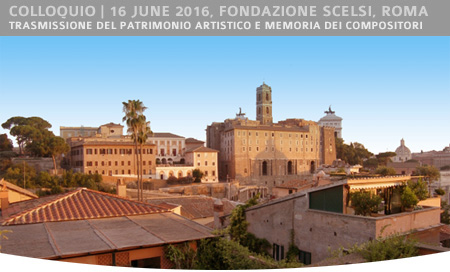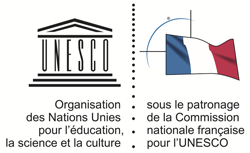 Transmission of artistic heritage and remembrance of composers, with the patronage of the French National Commission for UNESCO.



The Villa of Composers and the Isabella Scelsi Foundation are organising a Franco-Italian meeting devoted to the transmission of heritage and remembrance of works by contemporary composers.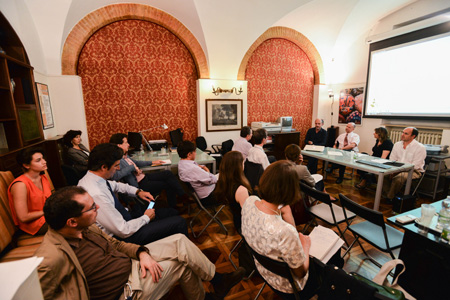 Throughout the day, the speakers will be sharing their experience of the issue of heritage and estate, distribution of content and public access to works. They will present the practical IT solutions developed and implemented by the Villa of Composers and Scelsi Foundation over the years.


At the close of the session, the speakers will address a motion to The Living Composers Project network of more than 4,400 composers in 98 different countries, who are called upon to enhance the universal collection of catalogues and works compiled by the Villa of Composers, and to support this philanthropic, cultural and artistic initiative.


The session will conclude with a chamber music concert with works from French and Italian composer members of the Villa.