Tesoriera park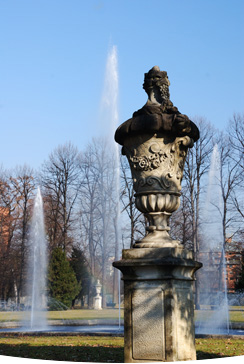 The 7-hectare park is located on the west road leading from the centre of Turin to the Royal Palace of Rivoli. This road, known as Corso Francia, is the historical route linking Turin to France. Today the park sits in the middle of a city with a population of 1.7 million.


The 18th-century Villa Tesoriera stands in the heart of the park. It is a fine example of a baroque delizia elaborately decorated with frescoes and forming a harmonious overall picture.


A large French-style meadow extends either side of the building. The grand fountain is located to the south. Magnificent trees, including a plane tree dating back to 1715, shrubs and flowers with both native and exotic species (hackberry, cork oak, magnolia) lend an air of enchantment to the park throughout the seasons.


The Montegrappa Metro station (line 1) is less than 100m from the park and takes you directly to the city centre (2-3 km away) and the main stations of Porta Nuova and Porta Susa.