For registered composers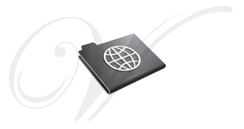 Pour bénéficier des offres annoncées sur le site, le compositeur doit procéder préalablement à l'enregistrement de ses coordonnées auprès de la Villa ; cet enregistrement a pour but de faciliter la communication dans notre réseau.
Une fois enregistrés, les Compositeurs obtiennent le statut « Registred composers », et accèdent aux offres de la Villa relatives à ce statut (par exemple, des Call for scores).


De nombreux compositeurs ont déjà été répertoriés dans la base de données The Living Composers Project (TLCP). La Villa des Compositeurs et The Living Composers Project ont signé en 2014 une convention de partenariat, ainsi l'enregistrement des compositeurs répertoriés sur le site web TLCP est grandement facilité.



PROCÉDURE D'ENREGISTREMENT SELON LE CAS
FOR REGISTERED COMPOSERS
1. Les compositeurs membres de la Villa sont déjà enregistrés.
2. Les compositeurs non répertoriés sont invités à s'enregistrer.
3. Le représentant d'un compositeur décédé non répertorié est invité à utiliser cet autre formulaire d'enregistrement [Link].



Related items:
Alternative versions:
-EN
-FR