Catalogue for Marco Quagliarini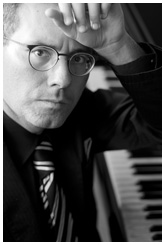 Composer member of the Villa of Composers; See Rules of Procedure for the Fund [Link]



NEWS
THE VILLA OF COMPOSERS

BIOGRAPHY
THE VILLA OF COMPOSERS
Marco Quagliarini, pianist and composer, was born in Torre del Greco (Naples). At a very young age he studied the piano under Marino Mercurio, with whom he later gained a diploma with full marks and distinction at the "Nicola Sala" Music Conservatory in Benevento. He went on to study with the well-known Russian pianist Lazar Berman, and followed numerous master classes held by the pianist and his wife Valentina, finally concluding his studies at the Accademia Musicale in Florence.


He first studied composition under Gaetano Panariello, with whom he gained a diploma in Choral Music and Choral Conducting.


He went on to gain a diploma in Composition in the class of Ivan Vandor at the Conservatory of S. Cecilia in Rome and subsequently obtained the second level Diploma Accademico in Composition, with full marks and distinction, under Gianpaolo Chiti and Matteo D'Amico.


In 2009 he gained full marks in the Advanced Diploma at the Accademia di Santa Cecilia in the composition class held by Ivan Fedele, being awarded the prestigious "Goffredo Petrassi" prize by the President of the Republic. In the same year he was one of the three finalists in the Santa Cecilia International Composition Competition in Rome.


His works are performed by several ensembles among which the most important are "Algoritmo", "Contempoartensemble", "Dèdalo ensemble", "Freon Ensemble" and "Imagosonora".


In 2010 he received a prestigious commission from the Accademia Filarmonica Romana for a piece for orchestra.


In 2012 the Orchestra Nazionale della Rai of Turin has given the first world performance of his composition "Events" for large orchestra in the season Rai NuovaMusica.


In 2015 he received an important commission of a composition for ensemble from the Amùr (musical associations in the network).


In 2016 he published for "Aracne editrice" the method of musical composition "Costruire la musica".


His works are published by Edizioni Suvini Zerboni-SugarMusic S.p.A.


The Villa of Composers / qm3t-3444 / a-1409
Document revised: Fri, 27 Mar 2020 11:47:40 +0100
Generated by The Villa of Composers® engine:
Fri, 27 Mar 2020 11:47:40 +0100



LIST OF WORKS
THE VILLA OF COMPOSERS
0012 Ricercare for Piano Solo; 17 min., Ed. Suvini Zerboni, qm3t-3444-CCN0012, 2013
0014 Ricercare III for Violin Solo; 13 min., Ed. Suvini Zerboni, Dedicato alla violinista Rebecca Raimondi, qm3t-3444-CCN0014, 2015
0015 Movimento for Piano solo; 10 min.20, Ed. Suvini Zerboni, Opera commissionata dall'Ass. Nuova Consonanza, qm3t-3444-CCN0015, 2014
0013 Ricercare II for Violin and Piano; 20 min., Ed. Suvini Zerboni, Dedicated to Pavel Berman, qm3t-3444-CCN0013, 2014

DISCOGRAPHY
THE VILLA OF COMPOSERS
Concert Villa Tesoriera 31 May 2017 CD-Audio Archives, The Villa of Composers, VDC-B71012 Recording , 2017
Riflesso Dèdalo ensemble, Direttore Vittorio Parisi, Soprano Ljuba Bergamelli, Stradivarius, STR 37052 , 2017

MUSIC LIBRARIES
THE VILLA OF COMPOSERS