Catalogue for Jean-Dominique Krynen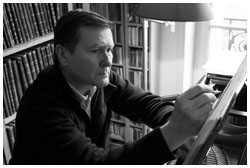 Krynen, Jean-Dominique (b. 1958, Toulouse). French composer of orchestral, chamber, lyric, organ and piano works.


Composer member of the Villa of Composers; See Rules of Procedure for the Fund [Link]



NEWS
THE VILLA OF COMPOSERS

BIOGRAPHY
THE VILLA OF COMPOSERS
Born in Toulouse, France (1958), it is at the city's conservatory that Jean-Dominique Krynen began his studies of music (piano, chamber music, harmony). Taking advices from pianist Thérèse Dussaut and conductor Jean Périsson, he completed Ecriture studies (1977-1986) at the Paris National Superior Conservatory, awarded with 1ers Prix in Harmony, Counterpoint and Orchestration (teachers Alain Bernaud, Jean-Paul Holstein & Serge Nigg).


Along these years, he has been visiting (1978-1986) winter, spring and summer academies in music phenomenology and orchestra conducting held by Sergiu Celibidache in Trier, Mainz and Munich. He owes to this master of music most of his musical knowledge (sans s!) and convictions, like the absurdity of atonalism.


As a self-made composer, his vocation has been growing against all avant-garde trends in musical creation, within a restricted core of musicians, among those french composer Stéphane Delplace.


Jean-Dominique Krynen's professional activity shares several fields: teaching, orchestration, musical edition, translation (Manuel de Falla's texts on Music and Musicians).


As a member of Académie de France à Madrid (Casa de Velázquez) for composition, he has been spending 2 years (1992-1994) in Granada (Spain), without any further interruption of his career as Director of various conservatories (Rueil-Malmaison, Paris (VIIe arrondissement), Corsica, Orléans, Paris (CRR).


The Villa of Composers / kj8t-3294 / a-1409
Document revised: Mon, 17 Aug 2020 12:10:43 +0200
Generated by The Villa of Composers® engine:
Mon, 17 Aug 2020 12:10:44 +0200



LIST OF WORKS
THE VILLA OF COMPOSERS
0005 Calvaire des innocents for (3.[2 picc.]/3.[f.h.]/2. + b.cl./2 sax. /3. // 4./3./3.+tuba // 2ha, timp., cel., perc. // strings); 11 min.30, Unpublished, kj8t-3294-CCN0005b, 1992
0009 Régates for cello solo & chamber orchestra (1.1.1.1./2.0./timp.cymb./ha/strings); 10 min., Unpublished, kj8t-3294-CCN0009b, 1995

MUSIC LIBRARIES
THE VILLA OF COMPOSERS
Bibliothèque nationale de France [Link]



DISCOGRAPHY
THE VILLA OF COMPOSERS
Bibliothèque nationale de France [Link]