Catalogue for Olivier d'Ormesson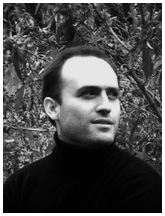 Composer member of the Villa of Composers; See Rules of Procedure for the Fund [Link]



NEWS
THE VILLA OF COMPOSERS

BIOGRAPHY
THE VILLA OF COMPOSERS
The organist and composer Olivier d'ORMESSON started to study the organ in 1997 with Frédéric DESENCLOS and Olivier HOUETTE, while also receiving valuable advice from Susan LANDALE and Michel BOURCIER. He joined the Conservatoire National de Region in Saint-Maur-des-Fossés, where he was taught by Eric LEBRUN; in June 2007 he received a 1st Prize for organ and in June 2009 a 1st Prize in advanced organ studies.


In 2008, he recorded on the great Cavaillé-Coll organ of the church of Saint-Antoine-des-Quinze-Vingts (Paris) the complete biblical cycle "Job" by the Czech composer Petr Eben (1929-2007), with the tenor Hervé Lamy singing the Gregorian chant (Psalmus).


Olivier d'Ormesson studied composition and musical culture with Valéry AUBERTIN from 2006 to 2010. Since September 2010 he has continued his studies with the composer Benoît MERNIER. In September 2008 he completed his second opera "Le Roi au masque d'or" after the short story by Marcel Schwob. He is also the author of a Lamento for cello solo, "Le dernier chant du monde", a sonata for clarinet, "Acedia", a sonata for cello and piano, "Chant d'espoir vers l'infinie d'une âme en peine", "Quatre Miniatures" for piano, a partita for two violas "Vor Sonnenaufgang" and a "Sinfonia da Camera".


The Villa of Composers / do3p-2639 / a-1409
Document revised: Fri, 27 Mar 2020 11:47:07 +0100
Generated by The Villa of Composers® engine:
Fri, 27 Mar 2020 11:47:07 +0100



LIST OF WORKS
THE VILLA OF COMPOSERS
0003 Le Roi au masque d'or for Le Roi : Baryton, le Mendiant Aveugle : Ténor, la Jeune lépreuse : Soprano - les Femmes, les prêtres, les Bouffons, le Cheur céleste : chœur mixte. Orchestre; 80 min., inédit, Drame Lyrique en 4 tableaux, livret du compositeur d'après l'œuvre de Marcel Schwob – œuvre dédiée à Hervé Lamy., do3p-2639-CCN0003, 2008
0012 Pour le Salut d'une âme errante for soprano et baryton soli, chœur mixte et grand orgue; 70 min., inédit, Livret du compositeur - Introït, Kyrie, O lucernat verbi Dei, Miserere, Offertoire, Sanctus, Elévation, Pater Noster, Agnus Dei, Lux aeterna, Libera me, In Paradisum. Création et enregistrement par la Compagnie La Tempête, direction Simon-Pierre Bestion le 31 mai 2015 à l'église Saint-Antoine-des-quinze-vingts (Paris). Revue Orgues Nouvelles n°31 - Hivers 2015 – 2016 Pascal Rouet 'Pour le salut d'une âme errante' : le Requiem d'Olivier d'Ormesson (entretien), do3p-2639-CCN0012, 2015
0001 Tenebrae Factae Sunt for chœur mixte a cappella à 8 parties; 7 min., DELATOUR - FRANCE, Motet (5ème Répons au 2ème Nocturne du Vendredi Saint) - œuvre dédiée à la mémoire du commandant Gustave de Surian. DLT1812, do3p-2639-CCN0001, 2006
0011 Missa dolorosa for chœur mixte et orgue; 16 min., inédit, Kyrie, Offertoire, Sanctus, Pater Noster, Agnus Dei (Messe extraite du Requiem pour le Salut d'une âme errante)., do3p-2639-CCN0011, 2014

DISCOGRAPHY
THE VILLA OF COMPOSERS
Petr EBEN : Le Livre de Job. - Olivier d'Ormesson au grand orgue Cavaillé-Coll de l'église Saint-Antoine-des-Quinze-Vingts, Paris, avec la participation du ténor Hervé LAMY, plain-chant. - 1 CD Durée : 72'18 Enregistrement original : DSD (Direct Stream Digital) Livret : 32 pages couleur - français, anglais, latin. Date de sortie : 29 Janvier 2009. www.psalmus.fr
Olivier d'Ormesson : Justorum Animae*, In Paradisum** (du Requiem) - * Olivier d'Ormesson, orgue. **Compagnie La Tempête, direction Simon-Pierre Bestion. - 1 CD. Orgues Nouvelles n° 31 – Hivers 2015-2016. Disque collectif. www.orgues-nouvelles.org
Olivier d'Ormesson : Requiem pour le Salut d'une âme errante. Enregistrement Inédit par la compagnie La Tempête en l'Eglise Saint-Antoine-des-Quinze-Vingts (Paris) - Direction Simon-Pierre Bestion – Adèle Carlier, soprano – René Ramos, baryton – Gabriel Bestion de Camboulas, orgue. - 1 CD Durée 79'25 - Livret 16 pages (texte Français, latin, allemand) - 2015.
Olivier d'Ormesson : La cité des Limbes - Olivier d'Ormesson, orgue. - 1 CD. Orgues Nouvelles N°23 - Hiver 2014. Disque collectif. www.orgues-nouvelles.org

MUSIC LIBRARIES
THE VILLA OF COMPOSERS