Catalogue for Fabrizio De Rossi Re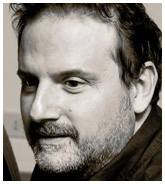 De Rossi Re, Fabrizio (b. 1960, Roma). Italian composer of stage, orchestral, chamber, choral, vocal, piano, and electroacoustic works that have been performed throughout Europe; he is also active as a pianist.


Permanent composer member of the Collegio musicale; See Rules of Procedure for the Fund [Link]



NEWS
THE VILLA OF COMPOSERS

BIOGRAPHY
THE VILLA OF COMPOSERS
Mr. De Rossi Re graduated in composition at the Conservatorio di Santa Cecilia in Rome with Mauro Bortolotti. Important for his musical training were his meetings with Sylvano Bussotti (Scuola di Fiesole), Salvatore Sciarrino (Corsi di Perfezionamento di Città di Castello) and, more recently, with Luciano Berio.
De Rossi Re is the author of a vast composition production characterized by the continuous research of an unpredictable sound path which meets and melts stylistically multifaceted experiences, always balancing a direct and open communication and the linguistic heritage of the historical avant-gardes. His music has been performed at many festivals in the Americas, Asia and Europe by numerous prestigious ensembles.
He has been member of the artistic committee of Nuova Consonanza in Rome since 1987. As a jazz pianist, he often participates in experimental improvisation projects with many other soloists. His compositions in this field has been recorded.
In addition to the works listed below, he has composed numerous scores for films and theatre productions.


E-mail address: [e-mail]
Street address: Mr. Fabrizio De Rossi Re, 16 Via Acherusio, I - 00199 Roma, Italy
Telephone: +39 06 8621 2594

DISCOGRAPHY
THE VILLA OF COMPOSERS

MUSIC LIBRARIES
THE VILLA OF COMPOSERS
The Villa of Composers / df0r-2604 / a-1409
Works/Events registration forms (for Composer member): [Link]
Document revised: Sat, 9 Apr 2022 17:38:35 +0200
Generated by The Villa of Composers® engine:
Sat, 9 Apr 2022 17:38:35 +0200