Catalogue for Nicolas Bacri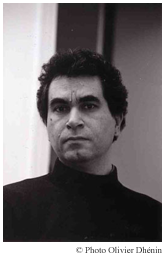 Bacri, Nicolas (b. 1961, Paris). Composer of instrumental music (7 Symphonies, numerous Concertos, 8 String Quartets, 4 Piano Trios, Sonatas...) Vocal (6 Cantatas, 2 Chamber Operas, 11 Motets, 3 Cycles of Melodies...) in lyrical, contrapuntal and freely tonal and atonal style incorporating and blending Viennese School and classical modernism features.


Composer member of the Villa of Composers; See Rules of Procedure for the Fund [Link]



NEWS
THE VILLA OF COMPOSERS

BIOGRAPHY
THE VILLA OF COMPOSERS
Born in november 1961, Nicolas Bacri is one of France's most frequently performed and recorded composers.


The composer of more than one hundred works in many genres, he has received such recognition as Prix de Rome (two years scholarship, Villa Medici, 1983-85), Prix Stéphane Chapelier (S.A.C.E.M.), Prix André Caplet de l'Académie des Beaux Arts, Prix Pineau-Chaillou 1991 (City of Nantes), Prix Hervé Dugardin (S.A.C.E.M.), Grand Prix de la Nouvelle Académie du Disque 1993, Prix Georges Wildenstein de l'Académie des Beaux Arts, Lauréat de la Fondation d'Entreprise du Crédit National (Natixis), Casa de Velazquez (two years scholarship, Madrid, 1991-93), Prix Pierre Cardin de l'Académie des Beaux Arts, Prix Claude Arrieu (S.A.C.E.M.), Lauréat du 5ème Concours Jeunes Artistes Européens : Young composers, Leipzig (B.P. Oil Europe) and, last but not least, Grand Prix de la Musique symphonique 2006 (S.A.C.E.M.).
Recent important commissions have come from French Ministry of Culture, Radio-France, Orchestre des Jeunes de la Méditérannée, Alte Oper Frankfurt, Tapiola Sinfonietta, Pro Quartet...


His orchestral works have been performed, among others, by Orchestre National de France, Orchestre Philharmonique de Radio-France, Orchestre de chambre de Paris, Mahler Chamber Orchestra, London Symphony Orchestra, Philharmonia Orchestra, English Chamber Orchestra, Riverside Symphony (New-York), WDR Sinfonie Orchester-Köln, Munich Philharmonic Orchestra, Munich Chamber Orchestra, European Camerata, Tapiola Sinfonietta, Collegium Musicum Bruggensis, Liège Philharmonic orchestra, ... With such conductors as Jonas Alber, Kees Backels, Martin Brabbins, Semyon Bychkov, Constantinos Carydis, Daniel Harding, Richard Hickox, Jean-Jacques Kantorow, Louis Langrée, Josep Pons, Yves Prin, Leonard Slatkin, Jean-Christophe Spinosi, Arturo Tamayo, Yann-Pascal Tortelier, Pascal Verrot... and with soloists such as Lisa Batiashvili, Sharon Bezaly, Peter Bruns, Renaud Capuçon, Gérard Caussé, Malena Ernman, Philippe Graffin, Natalia Gutman, Kim Kashkashian, Laurent Korcia, François Leleux, Lindsay Quartet, Régis Pasquier, Patricia Petibon, Alina Pogoskina, Eliane Reyes, Baiba Skride, Oliver Triendl, Jean-Pierre Wallez, Pieter Wispelwey...


He made his debuts as conductor with the London Symphony Orchestra with his A DAY (Four Images for orchestra) recording it at Abbey Road studio and premiere it at the Château de Versailles 's Royal Opera in september 2013.


Cds containing N. Bacri's music released since fifteen years includes (mainly) First, Third, Fourth, Fifth and Sixth string quartets, Fourth Symphony (Classical Symphony "Sturm und Drang"), Concerto for cello and orchestra, Second Concerto for violin and orchestra (3 Canti e Finale), Une Prière, for violin and orchestra (RCA BMG Red Seal), Flute Concerto, Concerto da camera for clarinet and strings, Concerto amoroso, Concerto Nostalgico, three Piano Trios, Sonatas for violin and piano, for cello and piano, for viola and piano, etc...


Two vocal works are recorded by Deutsche Grammophon : his Melodias de la melancolia, (Patricia Petibon/Spain National Orchestra/Josep Pons) and his Lamento (Malena Ernmann/Ensemble Matheus/Jean-Christophe Spinosi).


His opera written with the famous french writer Eric-Emmanuel Schmitt, with the same characters of Cosi fan Tutte ten years before, (Cosi Fanciulli) was played twelve times at Théâtre des Champs-Elysées in june 2014.


"After studying music analysis and composition with Françoise Gangloff-Levéchin, Christian Manen and Louis Saguer (from 1979), he entered the Paris Conservatoire (graduated 1983, first prize for composition), where his teachers were Claude Ballif, Marius Constant, Serge Nigg and Michel Philippot.


From 1987 he was at the head of the chamber music department of Radio-France, a position he relinquished in 1991 to devote himself entirely to composition. He had also held residencies at the Casa de Velasquez (Spain) and with a number of French orchestras (from 1993).


His early works, which culminate with the First Symphony (1983-4, dedicated to Elliott Carter), are rooted in a constructivist post-Webernian aesthetic. Later compositions, beginning with the Cello Concerto (1985/87, dedicated to Henri Dutilleux), draw on the melodic continuity displaced by the predominant aesthetic of the postwar period. This change of style has placed Bacri in the musical aesthetic of his time, where a spirit of reconciliation prevails." (Philippe Michel, Grove Dictionary of Music, edition 2001)



DISCOGRAPHY
THE VILLA OF COMPOSERS

MUSIC LIBRARIES
THE VILLA OF COMPOSERS
BNF Bibliothèque nationale de France
The Villa of Composers / bn1p-2145 / a-1409
Document revised: Fri, 27 Mar 2020 11:46:43 +0100
Generated by The Villa of Composers® engine:
Fri, 27 Mar 2020 11:46:43 +0100