Villa's collections
In keeping with our philosophy and our modus operandi, we are organising CALLS FOR SCORES for current and future Villa members so that we can select the works we would like to promote as fairly as possible.



GENERAL INFORMATION
VILLA'S COLLECTIONS
scores will be examined by professional performers, who will select the pieces they wish to include in the Villa's collection. The results of the selection process are published on the Villa website;
on receipt of the scores, they will be anonymised and given a number instead of the composer's name;
in the event of circumstances beyond the Villa's control, the CALL FOR SCORES may be postponed or cancelled. The joint decision of the Executive Director and the Artistic Director will be final.
these pieces may be selected for the concert but they will only be eligible for citation in the Villa's collection (list of works);
the scores will then be sent to Turin to be deposited in the Villa library;
costs related to the acquisition of scores and postage in connection with the CALL FOR SCORES are not borne by the Villa.

SEE ALSO
VILLA'S COLLECTIONS
The Villa's modus operandi [Link]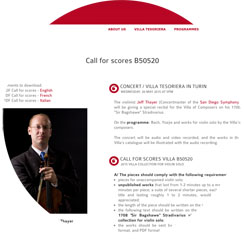 2015 Villa collection for violin solo
Thursday, 5 March 2015

CALL FOR SCORES VDC B50520 [Link]

Related items:
For registered composers subpages:
The Living Composers Project
Villa's collections
Alternative versions:
-EN
-FR