Supporting and uniting composers worldwide


NEWS FROM THE FUND
THE VILLA OF COMPOSERS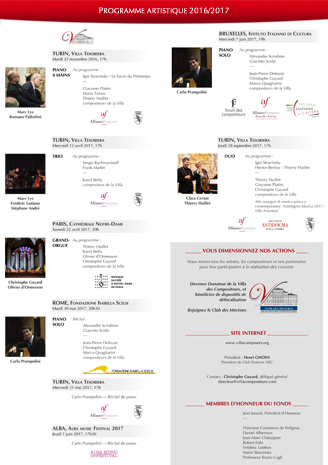 2017 — Artists and performers invited by the Villa of Composers: Marc Lys, Romano Pallotini, Karol Beffa, Frédéric Ladame, Stéphane André, Christophe Guyard, Olivier d'Ormesson, Carlo Prampolini, Clara Cernat, Thierry Huillet…



CONCERTS & MUSICAL EVENTS
UPCOMING EVENTS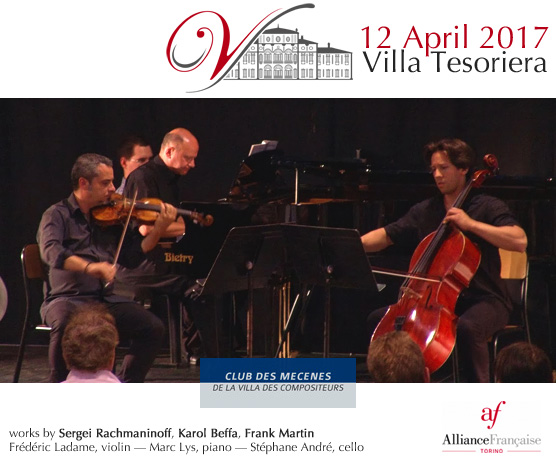 2017 — Composer invited by the Villa of Composers: Karol Beffa — Concert presentation at 4:30pm — The concert will begin at 5pm.



LAST, BUT NOT LEAST
CONCERTS, EVENTS AND MORE
Mr. Henri Ghosn is Chairman & Chief Executive Officer at Société Française de Gestion & d'Investissement SA and President at TALWYN Asset Management.



THE MUSICAL WORKS FUND
& TOMORROW'S ARTISTIC HERITAGE
Every six months, the data in the Fund's digital library and the catalogues is harvested by the National Library of France (BnF).
This honours the commitment made by the Fund at its inauguration at the Palazzo Farnese on 5 July 2012 in Rome, following which we received the patronage of the French Ministry of Culture:


(...) The digitisation of cultural heritage is one of the priorities of the Ministry of Culture and Communication. Your project contributes to this aim by promoting the physical and digital preservation of musical works from across the world. Moreover, the partnerships that you are establishing with libraries reflect my ministry's desire to strengthen international cultural exchanges. (...)



STATISTICS
FOR THE CENTRAL CATALOGUE
On Fri, 10 Mar 2017 10:45:19 +0100, the database of the catalogues of composers who are members of and affiliated to the Villa of Composers, contains:


58 composers registered to the Villa of Composers,
37 composer catalogues,
1882 documented works,
423 hours 44 min. of music for documented works.
On Sat, 14 Jan 2017 12:28:58 +0100, the directory of the Living Composers Project contains:

4484 composer entries,
502 composer catalogues,
99 countries.