Supporting and uniting composers worldwide


NEWS FROM THE FUND
INTERNATIONAL COMPOSITION COMPETITION
Final round of the competition: 22 January 2017 - Kanako Abe, Conductor / Vincent Penot - Clarinet Soloist of the Orchestre National de l'Opéra de Paris / Orchestre Symphonique Région Centre Val de Loire - Tours


Previous jury members: Henri Dutilleux, Mstislav Rostropovitch, Isaac Stern, Vladimir Ashkenazy, Christoph Eschenbach, Betsy Jolas, Edison Denissov, Julian Anderson, Michaell Jarrell, Magnus Lindberg, Claude Helffer, Valentin Erben (Quatuor Alban Berg)…



LAST, BUT NOT LEAST
CONCERTS, EVENTS AND MORE
September 2016, PARIS
Meeting with Dan Albertson, curator of The Living Composers Project, held in the presence of Christophe Guyard and Marc Lys, Founding composers.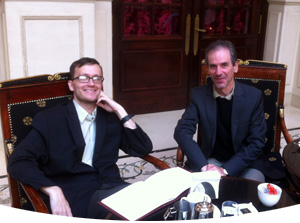 November 2016, FIRST FINANCE, PARIS
10th Board of directors meeting



THE MUSICAL WORKS FUND
& TOMORROW'S ARTISTIC HERITAGE
Every six months, the data in the Fund's digital library and the catalogues is harvested by the National Library of France (BnF).
This honours the commitment made by the Fund at its inauguration at the Palazzo Farnese on 5 July 2012 in Rome, following which we received the patronage of the French Ministry of Culture:


(...) The digitisation of cultural heritage is one of the priorities of the Ministry of Culture and Communication. Your project contributes to this aim by promoting the physical and digital preservation of musical works from across the world. Moreover, the partnerships that you are establishing with libraries reflect my ministry's desire to strengthen international cultural exchanges. (...)



STATISTICS
FOR THE CENTRAL CATALOGUE
On Wed, 19 Oct 2016 12:11:26 +0200, the database of the catalogues of composers who are members of and affiliated to the Villa of Composers, contains:


55 composers registered to the Villa of Composers,
37 composer catalogues,
1655 documented works,
370 hours 57 min. of music for documented works.
On Tue, 13 Sep 2016 15:03:45 +0200, the directory of the Living Composers Project contains:

4452 composer entries,
502 composer catalogues,
98 countries.